TREX COURSE COMPLETED
San Juan TREX 2019: September 10 – 24
Bayfield & vicinity, Colorado
For more information, please CLICK HERE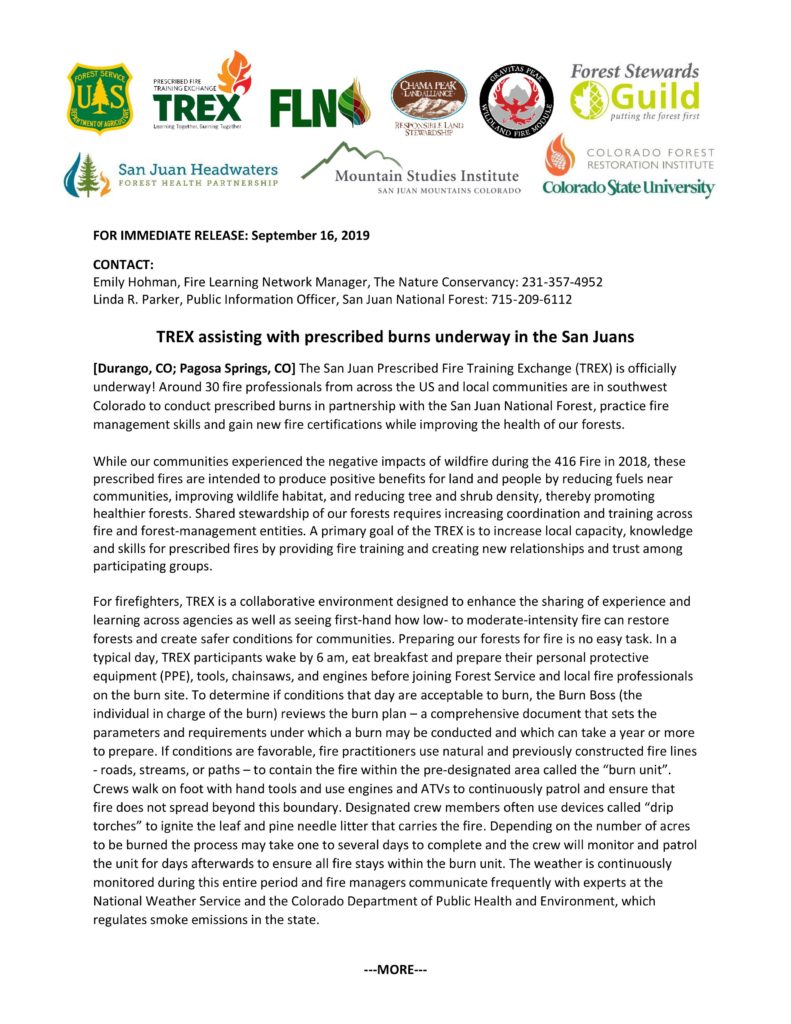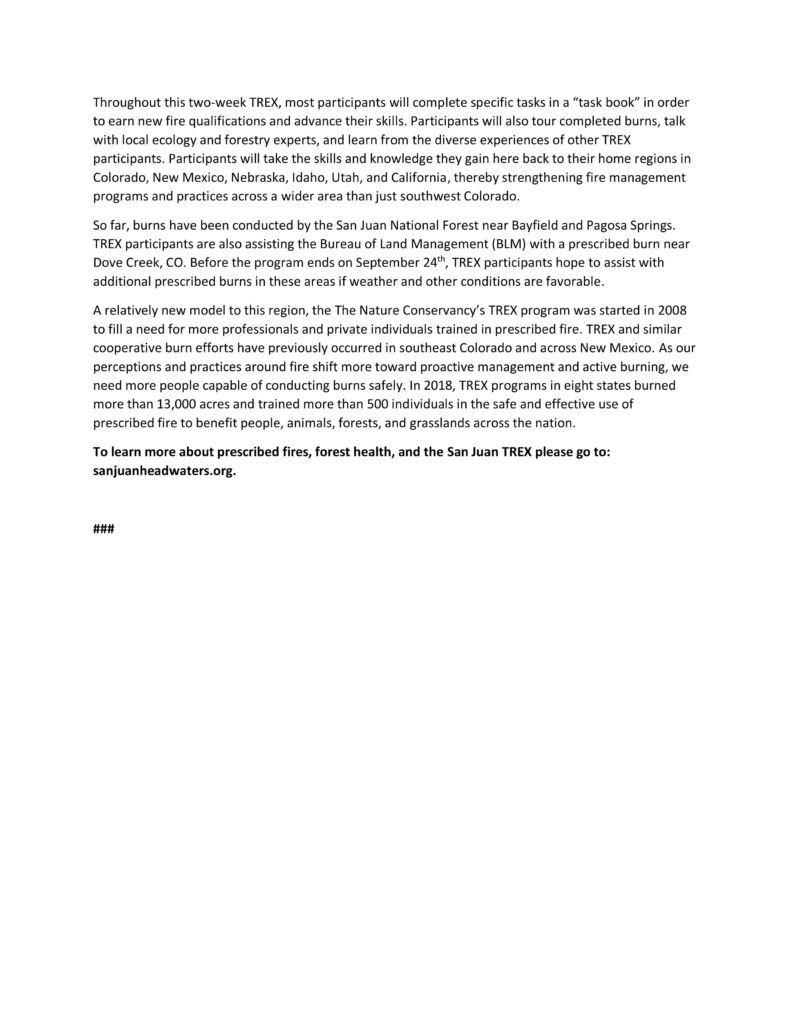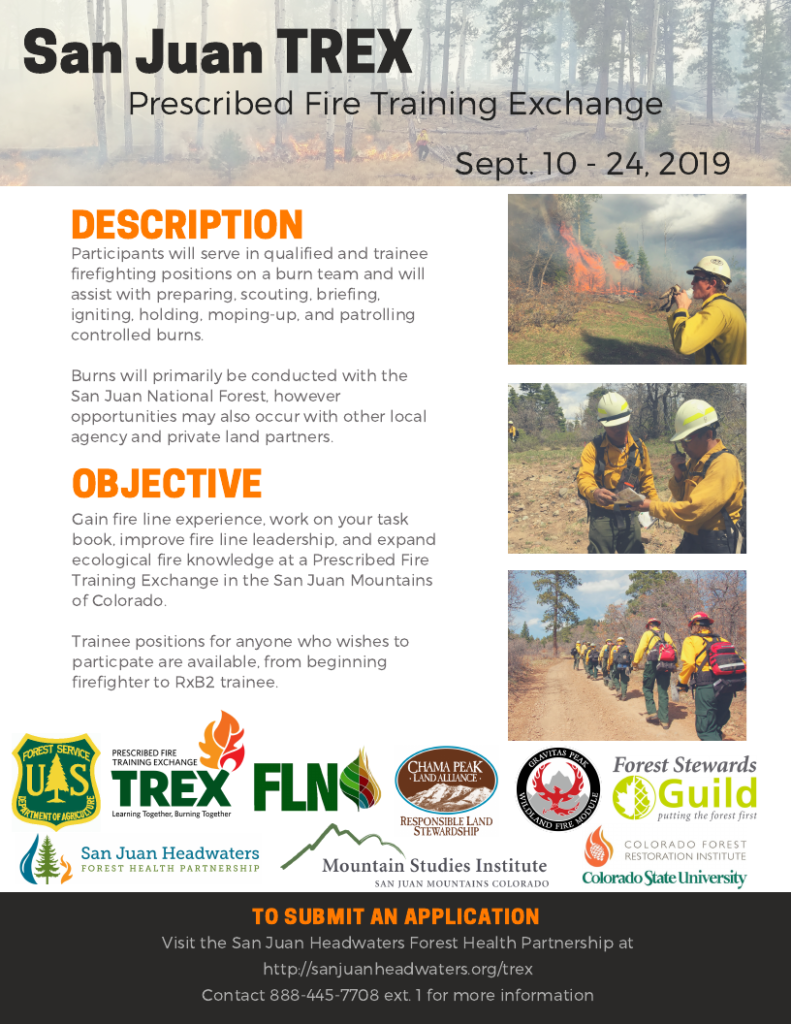 The Chama Peak Land Alliance (CPLA) in partnership with the San Juan National Forest, The Nature Conservancy and regional partners will be hosting a Prescribed Fire Training Exchange (TREX) in September, 2019.  The intent of this training is to provide opportunities for local and regional firefighters, scientists and managers to work and train together, build their experience in prescribed fire practices, fire effects, and other conservation efforts affecting forests, woodlands and grasslands in northern New Mexico and southern Colorado. Training opportunities for anyone who wishes to participate are available, as well as for those pursuing National Wildfire Coordinating Group (NWCG) qualifications for the positions of RXB2, ENGB, FIRB, FFT1, FFT2 and FEMO.
The San Juan National Forest, the Chama Peak Land Alliance (CPLA), The Nature Conservancy, including the TREX Program, the San Juan Headwaters Forest Health Partnership, and others are working collaboratively across ownership boundaries to improve the resiliency of regional forests and watersheds to catastrophic wildfire, forest insect and disease outbreaks, and climate change impacts. More information about the Partnership and the region can here found here.
We invite professional wildland firefighters and prescribed fire practitioners, fire and resource managers, ecologists, biologists, conservationists, students and faculty, researchers and scientists from federal, state, tribal, non-governmental and private organizations to be part of our burn team. The training will be organized as an incident, using the Incident Command System and will integrate with local fire staff, primarily on the San Juan National Forest in southwest Colorado. Participants will serve in qualified and trainee firefighting positions on a burn team and will assist with preparing, scouting, briefing, igniting, holding, mop-up and patrol on numerous controlled burns in the area. We will also complete pre- and post-fire monitoring, train with equipment, practice fireline leadership skills and learn about local fire ecology and fire management. The work will take place primarily in the San Juan Watershed of southwestern Colorado, however opportunities to burn in other watersheds in northern New Mexico are also possible. The training will include field trips to orient participants to the natural and cultural landscape of this region, burn units, fuels, and other wildland fire related topics. We will integrate and learn about community efforts to prepare for and mitigate wildfire impacts to natural resources, homes, and communities.
Join us for hands-on burning and learning in southwestern Colorado. Everyone is welcome. If you do not have the minimum training requirements or required Personal Protective Equipment (PPE) we will provide them to you.
Requirements:
All participants' qualifications must be current. At a minimum, everyone must have completed NWCG courses S-130 and S-190, as well as FEMA IS-700A and ICS-100. Free online self-study materials for these courses will be offered to participants who need them and assistance will be provided (see links in blue and Emily Hohman at the phone number and email at the bottom of this page). Online courses require 35-40 hours to complete and participants are strongly encouraged to start this training well in advance of the TREX.

Participants must complete an arduous pack test before the start of the event. We will help provide instructions and standards so that you can complete the pack test prior to the TREX event.

Participants should come with all appropriate Personal Protective Equipment (PPE), including fireline-approved boots (all leather work boots, 8-inches tall, non-slip soles, and no steel toe), a New Generation Fire Shelter, headlamp, hard hat, Nomex clothing, all leather gloves, eye protection and canteens for drinking water. If you do not have proper PPE, please let us know and we will provide you a set on loan at no cost.
Cost: Each participant is responsible for a $300 non-refundable registration fee that covers administrative costs. This is not a lodging or tuition fee. Instructions on how to pay the registration fee will be provided when you are notified that you have been selected to attend. This fee may be waived for local participants, defined as a two county radius of our main area of operations, on a case-by-case basis.
Meals & Travel: Meals and lodging will be provided during the training. Participants are responsible for their own travel to and from the Bayfield/Chimney Rock region of southwest Colorado.
Lodging: We will be camping in a rustic campground on USFS land near Chimney Rock National Monument. Pit toilets are available on-site and hot showers are available at a nearby facility. Participants will need to bring a tent, sleeping bag, and all other items necessary to camp for the duration of the event.
Questions: Contact Emily Hohman by email or phone at 888-445-7708 ext. 1.