Our Local National Forests
San Juan National Forest
Rio Grande National Forest
---
Fire Danger & Restrictions Explained
---
Fire Mitigation Resources
Additional Resources
---
Post-Wildfire Resources
Additional Information
---
The 416 Fire, 2018
In June of 2018, a fire ignited in Southwest Colorado that would eventually burn 54,130 acres.

Photo: Priscilla Sherman
From June 1st to July 31st, the 416 returned fire to a landscape approximately 10 miles north of Durango CO, without loss to lives or structures, that had experienced more than a century of fire-repression. The 416 was officially contained on July 31st and later controlled on October 5th. The Burn Area Emergency Response team (BAER) reported that over 98% of the fire burned on National Forest Service Land and less than 2% on private property.
Despite the long-term positive effects this fire will bring to the Hermosa Wilderness and the Hermosa Creek Special Management Area, the short-term effects have made local landscapes and water sources highly vulnerable to erosion, debris flows, and degraded water quality.
The name of the 416 Fire originated as it was the 416th incident call for the San Juan National Forest received by the Columbine Ranger District in Bayfield, Colorado in the spring of 2018.
Below is an interactive map showing the boundaries of the 416 Fire and the Burro Fire which was sparked the same season. Click HERE for larger map.
Criteria for Stage III Restrictions
Must meet 8 out of 10 – The San Juan National Forest met all 10 in the summer of 2018
1) A measured 1,000-hour time lag fuel moisture content of 12 percent or less.
2) A seasonal energy release component (ERC) above the 80th percentile. (We are above the 100th percentile- see below)
3) The ignition component is 80 percent or above.
4) A three-day burning index that is above the 80th percentile.
5) Fire danger rating adjective class is very high or extreme.
6) That fire occurrence is impacting available suppression resources, making adequate initial attack difficult.
7) Local area preparedness level is three or above.
8) The local area is receiving high occurrences of fires and human-caused risk is expected to increase.
9) Adverse fire weather conditions and risks are predicted to continue.
10) And, finally, implementation of existing fire restrictions is not adequately reducing human-caused fires.
Click HERE to read the discussions held by the community of Pagosa Springs leading up to the Stage III Fire Restrictions on the San Juan National Forest.
Below is a graph of the energy release component, or flammability of fuels, courtesy of Tony Cheng at Colorado Forest Restoration Institute.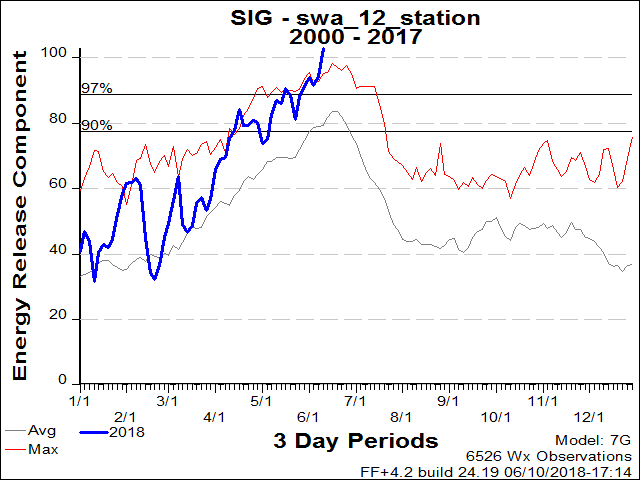 To find more articles about fire, scientific research, restoration, forest ecology, and more in our San Juan Headwaters website, click HERE.